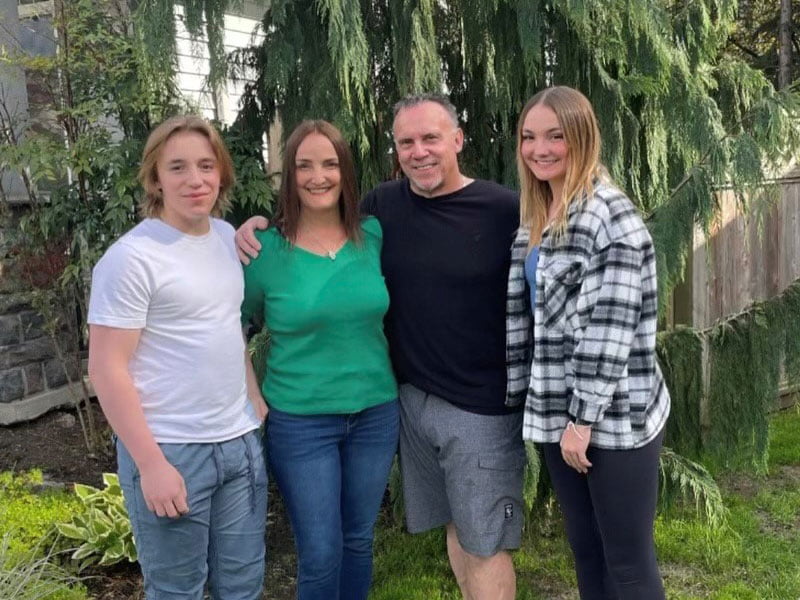 I am eternally grateful to Eagle Ridge Hospital.
I never got headaches, so when I started experiencing nausea and stabbing pains in my head on a November day in 2019, I knew I needed to go to the hospital. I needed to go to my community hospital, Eagle Ridge Hospital (ERH).
When I arrived at ERH, the pain was worsening. So bad, that I needed a pillow as I was being assessed. The fact that I never got headaches was a red flag for the staff, and things moved quickly after that.
I was scared. I was immediately taken for a CT scan, which revealed an 8-centimeter mass in my head. Amidst the stabbing pain, thoughts of my children and my husband ran through my head. I had a ton of emotions and so many questions, but the nurses and doctors were amazing.
The mass was a dramatic tumour attached to my skull, putting pressure on my brain tissue, causing intense pain. The amazing health care team monitored and cared for me until I could be transferred for surgery, a pterional craniotomy, to remove the tumor.
My family and I are so thankful for the staff at Eagle Ridge Hospital. They listened and took my symptoms seriously. Their immediate reaction was a big part of my quick diagnosis and saving my life. I am thankful for the expertise and dedication of the Medical Imaging team. We will forever be grateful.
Nearly 80% of Emergency patients require the services of the Medical Imaging Department during the course of their diagnosis and treatment.
Please help ensure that when patients like me require Medical Imaging services at Eagle Ridge Hospital, the team is ready with the most up-to-date vital equipment and technology to deliver the best care possible.
You can make this happen – so far we have raised an incredible $1,119,962, and have $980,038 to go! Help us make our Medical Imaging Department a model of modern emergency care, and save more lives like mine. Give today. Be the difference.
With appreciation,

Randi Jones
Grateful Patient
P.S. If you have already given, or if this letter has crossed paths with your gift, we thank you and appreciate your support!