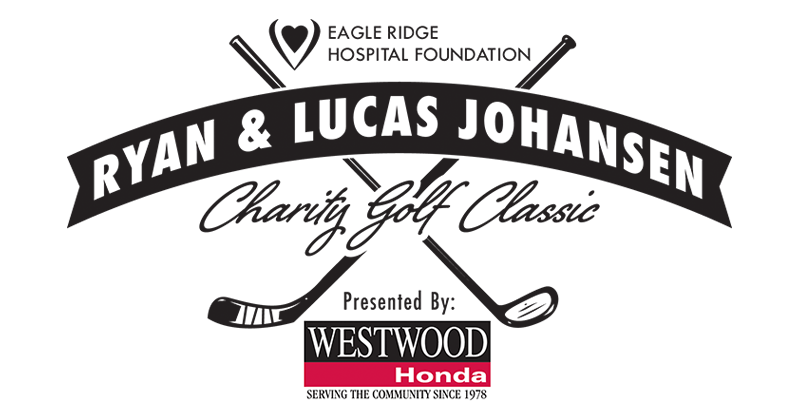 Eagle Ridge Hospital Foundation and the NHL's Johansen Brothers begin an exciting "Hole-In-One" Partnership
Eagle Ridge Hospital Foundation Announces Local NHL Brothers as Naming Partners for their Long Standing Charity Golf Tournament
Port Moody, BC – January 19, 2018 – NHL brothers, Ryan and Lucas Johansen have entered into a new partnership with Eagle Ridge Hospital Foundation (ERHF) rebranding the Foundation's annual Charity Golf Classic to the Ryan and Lucas Johansen Charity Golf Classic in support of ERHF, presented by Westwood Honda. This three year naming partnership will launch at the Foundation's 2018 tournament on July 10, 2018 at Swaneset Golf and Country Club. 2018 will mark the 19th year for the tournament that has raised over $2.5 million to support the greatest needs at Eagle Ridge Hospital.
Every year the charity golf tournament sees approximately 250 golfers participating in the event, utilizing the two courses available at Swaneset. The naming partnership with the Johansen brothers will bring some exciting enhancements to the tournament including the addition of NHL players', an opportunity for golf teams to have a NHL player join their group, new media partners and access to exciting prizes. This new partnership will help drive the sellout of the tournament, from golfer registration to sponsorship, something the Foundation is predicting for 2018.
"We are excited about this new chapter for our charity golf classic and partnership with the Johansen brothers," says Charlene Giovannetti-King, Executive Director of ERHF. "Lending their name to our long-standing tournament allows us to elevate and maximize the event, from the experience we offer our golfers to the overall funds raised in support of Eagle Ridge Hospital. The Johansen family has been supporting the Foundation over the years so this naming partnership just solidifies our ongoing relationship. We are very thankful to Ryan, Lucas and the Johansen family for all of their support."
Randall Johansen, Ryan and Lucas's father, speaking on behalf of his sons who are both out of town with their respective hockey teams shares, "Ryan and Lucas are honoured to partner with this great tournament,' says Johansen. "The boys grew up playing hockey and all sorts of sports in this community so we relied on the important services that Eagle Ridge Hospital provides throughout their younger years. I am proud that both Ryan and Lucas are passionate about giving back to the community they grew up in and have chosen to support ERHF through the naming of the Golf Classic. Our family hopes the community will come out and support both the Foundation and our boys in this exciting partnership."
On top of a fabulous day of golf, participants are treated to a morning patio party, food and beverage on course, exciting contests, activities and post-golf dinner reception.
Registration for the 2018 tournament will open in March 2018 and is $275 per golfer. For more information contact info@erhf.ca.