Prefer to donate offline?
Print out this donation form and mail it to us, or drop it off in person.
Eagle Ridge Hospital is known as the
Little Hospital with the Big Heart
and
heart hands
has become a symbol of love, gratitude and support shown by patients, families, supporters and community residents.
Learn More …
CLOSE TO HOME |
FAR FROM ORDINARY
I feel honoured and lucky to be able to do the job that I do; to serve the community as Head of Cardiology Department here at Eagle Ridge Hospital (ERH). Together with the Cardiology team, we care for thousands of patients annually within the Tri-Cities region – but it's not enough for our community. Wait lists are growing, follow up is taking longer and much needed services for patients in our community are not currently available – like a Pacemaker Clinic.
A Pacemaker Clinic at Eagle Ridge Hospital means patients needing specialized pacemaker care and follow up will no longer be required to travel outside of the community to places such as Surrey, New Westminster or Vancouver to access service and treatment. Through the clinic, patients will now be able to have assurance that their pacemaker is working appropriately, have it programmed to provide the best benefits to them and to check on battery life – all done right in our community, close to home.
As our community ages and grows, so will the incidence of heart disease. Last year, we performed over 19,770 tests due to cardiac related visits to the Emergency Department. For those with pacemakers, the ability to have access to consistent follow up care means faster diagnosis of issues when they do arise, such as irregular heartbeat and atrial fibrillation, leading to the prevention of strokes and heart failure. These expanded services mean better health outcomes for our entire community, something we all deserve.
To be a physician and to help people is a tremendous privilege and one I take very seriously. I am so proud to serve this community and to use my voice to help raise funds for Eagle Ridge Hospital Foundation. Please join me in making a gift to help us reach our goal of $84,800 to fund a new Pacemaker Clinic for our community.
With gratitude,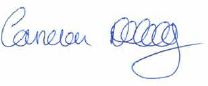 Dr. Cameron Dehoney, FRCPC
Department Head, Cardiology
Eagle Ridge Hospital