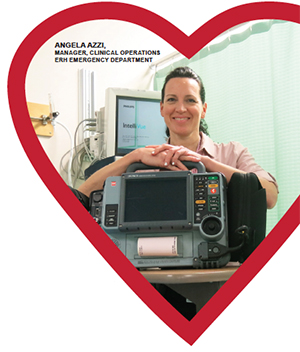 When minutes can save lives, a new transport defibrillator will save many.
As the Manager of the Emergency Room at Eagle Ridge Hospital, I see lives being saved around me every day. Eagle Ridge Hospital plays a critical role in the overall health of our community. Our emergency room is the front line in a medical emergency, providing you, your family and the community with immediate, lifesaving care. We are staffed with a dedicated team of doctors and nurses who work tirelessly, 24 hours a day.
Approximately 160 people come into the Emergency Room each day in need of critical care, from children who have taken a serious fall to adults and seniors suffering from chest pains. Critical care means lives can be saved or lost in a matter of minutes. These minutes become even more crucial when treatment requires enhanced services not available at our community hospital and the patient must be transferred.
During this crucial time, we need advanced medical equipment to keep our patients alive. We ask for your support today to fund a LIFEPAK transport defibrillator for our Emergency Room, to give people in need of enhanced services a fighting chance.
Your gift will go towards the purchase of a brand new LIFEPAK transport defibrillator with leading edge technology. The LIFEPAK is vital for every patient transfer, keeping them monitored and stable, alerting nurses and physicians of any life threatening complications. If a patient's heart stops, the LIFEPAK will act as a defibrillator to help save their life.
Every day, we are in the emergency room to care for your loved ones. Our clinical expertise is enhanced with essential up to date equipment, without it we cannot deliver our best for you.
Please make a gift towards the purchase of this vital piece of equipment and continue to support our greatest needs.
My sincerest thanks,

Angela Azzi
Manager, Clinical Operations
Emergency Room Department